Service
Customer-Service-Center
To help maintain your screen printing business, Thieme offers you a complete customer service package. The continuous availability of your Thieme machine will ensure that your orders will be printed on time. For this reason, highly experienced service engineers from Thieme are at your disposal: A worldwide network of service technicians offer fast and competent assistance for all your service needs.
Thieme Helpline: +1-630-513-1666
E-Mail:
ac@thieme-us.com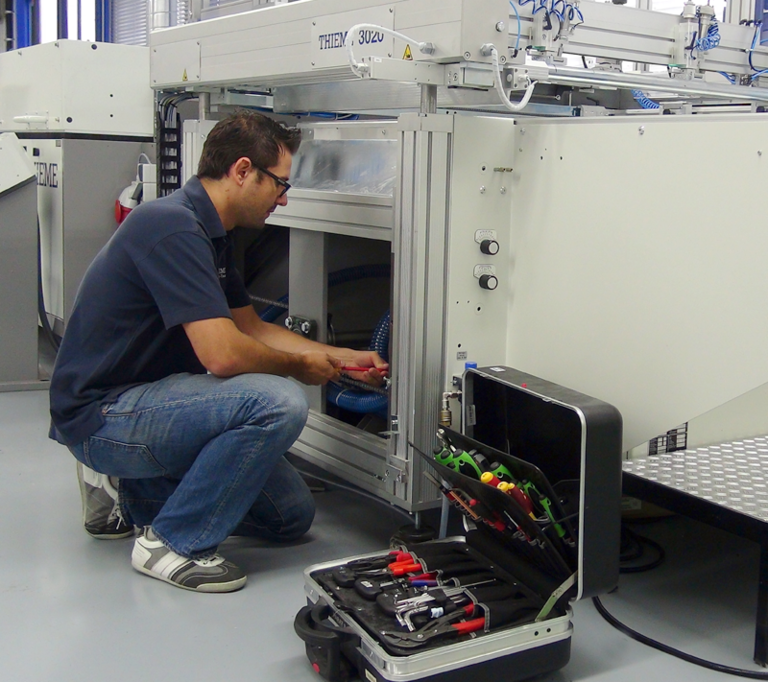 Our service includes
Competent customer service personnel who will take care of your needs
Initial operation
Training
Application technique
Regular service at your site
Remote Maintenance
Reconditioning
Servicing
Modernisation upgrades
Spare parts management
Original Thieme spare parts
Long-term availability of spare parts
Your advantages
Increased availability of machine
High operational safety
Long durability
High capability
Safe planning
Calculable operation and maintenance costs
Determination of service dates
Helpdesk
The Thieme helpline will take your calls which are immediately forwarded to our experts.
Thieme Helpline:
Monday - Friday
08:00 - 17:00 Uhr (CT)
Phone: +1-630-513-1666
E-Mail:
ac@thieme-us.com
Error Indication via Remote Diagnostics
Based on the fact that your Thieme machine is featured with a modem, the reason for the malfunction can usually be diagnosed with the help of a telephone line or a network connection.
Thus, fast and direct help can be offered to customers all over the world – without the need of an on site technician.
If a service technician does need to visit you, the working time will be reduced thanks to the previous remote diagnostics.
Service Agreements
Thieme Service Maintenance Agreement SMA (SMA = Service Maintenance Agreement)
The service maintenance agreement includes different service packages individually tailored to your machines. This means: the best support and calculable costs.
We would be very pleased to send to you an individual service offer for your Thieme machines.
Spare parts
Spare parts for your THIEME printing machine: Order the required spare parts for your THIEME printing machine directly from us.
Please send your order as a PDF to the following e-mail address:
ac@thieme-us.com
Your Contacts
Arron Carpenter
+1-630-513-1999