Digital printing SEries
THIEME 502 D
Digital Lean Production Printer - Digital Inkjet Printer for the industrial production.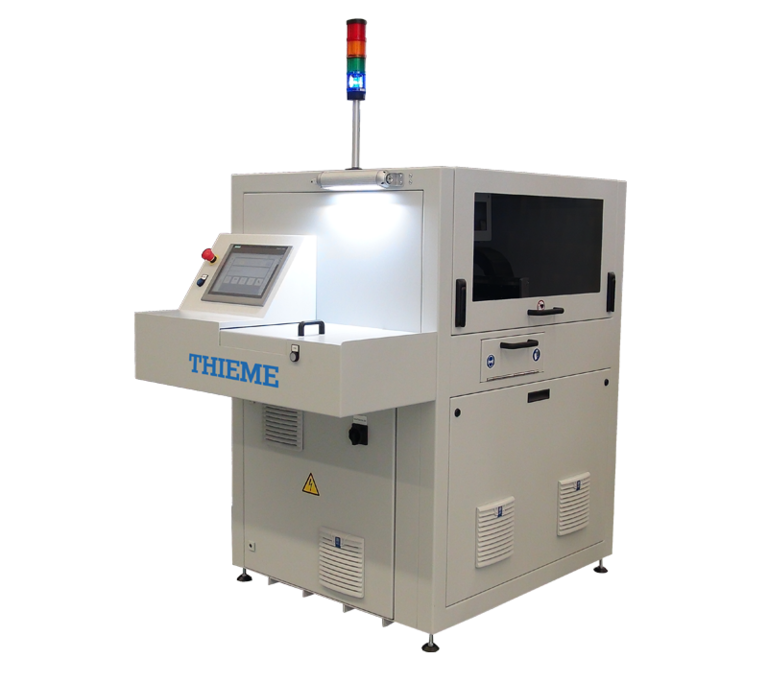 Why THIEME 502 D?
"One-Piece-Flow" - Printer for industrial production
CMYK, optional white, with with standard UV LED curing
Standard printing size 160 x 320 mm
Carrier System for different sheet hights
Reduction of set up times, Job changing "on the fly"
Reduction of through put time and warehouse stock
"Mass Customization"
Specifics
Industrial UV-LED Inkjet printer
Perfect for lean production using the one-piece flow process
Multi-pass digital printing for highest quality demands
Quick changeable carrier system
For different sheet hights up to 12 mm
Simple intiutive control system
Easy data handling with operater optimized Caldera RIP-Software
Siemens control system
Ink batch tracing
Closed system with exhaust connection
Flatbed system with very high print quality
Easy industrial safety concept
12" touch control panel
Technical Data
Type of machine
502 D
Print size [mm]
160x320
(other dimensions on request)
Print heads
2 x Ricoh Gen5 4C
Colour channel
4 (CMYK), optional white*
Drop size
7 pl
Drying
2 x UV LED
(other specifications on request)
Sheet hight max. [mm]
12
Print cycle time
60s
System resolution
800 x 1200 dpi
Outer dimensions (BxLxH) [mm]
1585 x 1000 x 1550 (2060 inl. signal lamp)
Weight [kg]
600
Power supply [V]
400/230
All technical information is not binding and is subject to change.
*machine will extend
Example options
Fields of application
Thieme offers diverse screen printing and digital printing solutions for small and large format printing applications in the graphics sector such as POS/POP prints, posters, displays and cardboard packages.
Everything from semi-automated machines to multi-colour lines for technical, industrial and graphical screen printing and digital printing are covered.

More ...

The decorative printing of front foils and keyboard membranes for the production of flat input systems always require a customised design. The Thieme screen printing and digital printing solutions leave nothing to be desired.

More ...

If you had only know that ...

Customers are constantly bringing their special ideas to Thieme. Many special customized machines have already been developed due to the challenges posed by unusual printed fabrics or special materials.


More ...
THIEME 502 D