SCREEN PRINTING SERIES
THIEME 3000 GS AM
Fully automatic screen printing machine for automotive glass and shaped glass panels of any kind.
Machine design available as long or short edge leading system
High production yields by reliable machine components and innovative accessories
Flexible and to be integrated in existing machines and systems
Registration system also available for symmetrical and/or asymmetrical panels
Economical
Short set-up times
Programmable machine parameters
Reproducibility
User-friendly
Operational issues associated with automotive glass screen printing can be easily resolved by machine features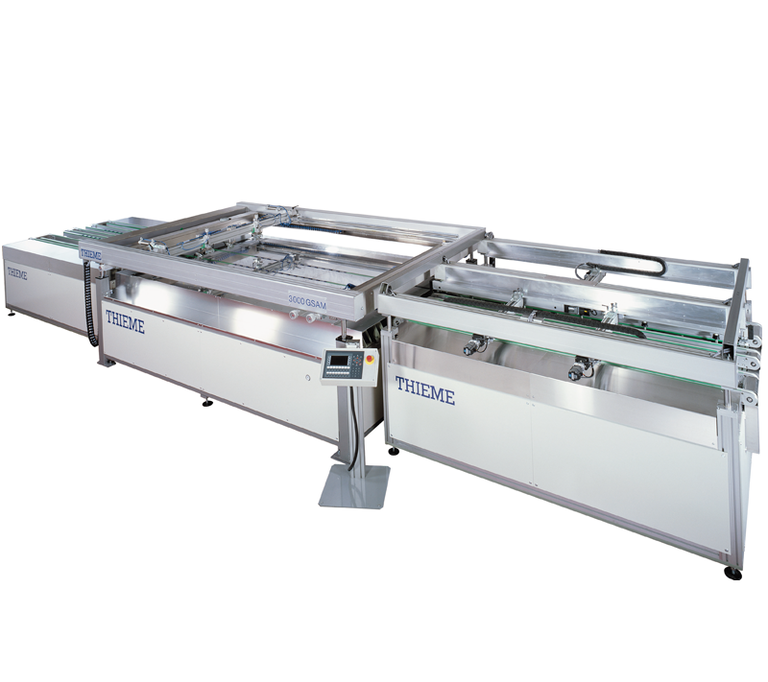 Specifics
For full automatic printing of windshields, back- and sidelites
Designed as in-line printing machine for the integration into fully automated production lines
Equipped with shuttle transport system with integrated vacuum sections for fast and precise glass transportation
With high precision positioning of the glass panels
Short set-up times with fully automatic teaching of the glass alignment system
Automatic screen alignment via CCD-camera system (optional)
With patented THIEME print head with automatic squeegee pressure alignment
Technical data
Type of machine
3000 GS AM
Print size max. [mm]
Dimensions 2400 x 3400
Special features
Windscreens, backlite and sidelite:
- symmetric glasses
- non symmetric glasses
Print speed on request.
All technical information are not binding and subject to change.
Example options for glass printing