Option
Ink management
The right ink for your digital printing process!
Whether water-based inks, UV inks or LED inks
In digital printing, we mostly talk about hardware, number of print buttons and print speed. For a perfect print result, the right combination of machine technology, inks and substrates is also crucial.

Together with selected partners, Thieme offers you complete solutions so that you can immediately start using your digital printing machine.

We are also your direct contact for all questions and will find exactly the ink for your substrate! Give us a challenge!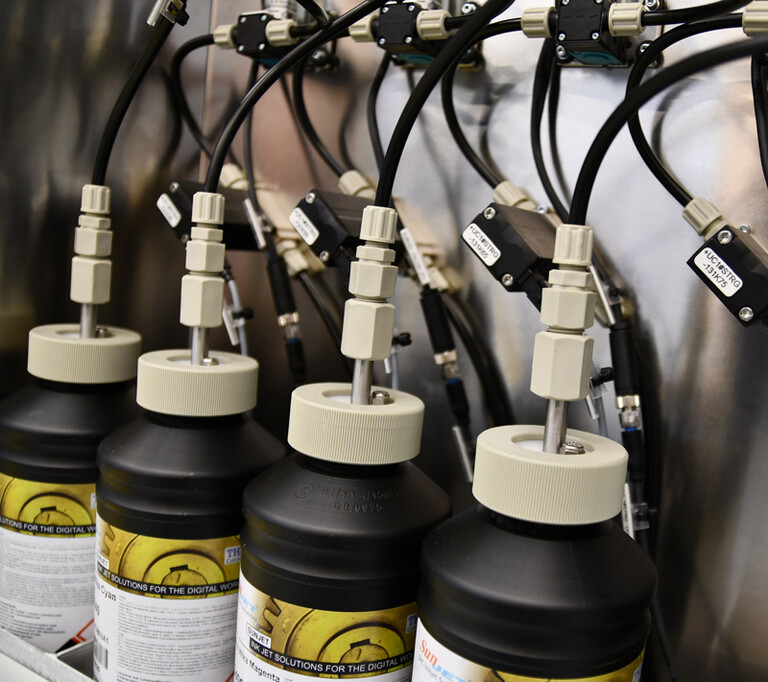 Benefits
Wide range of suitable inks, whether water-based, UV or LED
Support from experienced application engineers
We offer a complete solution
You can start printing immediately
The ink can be processed reliably and reproducibly under various climatic conditions.
Individual processes including printing and drying are tested in our technical centre to find the right process between ink, substrate and printing technology.
Cross cut test
Customer-specific tests
FIM automotive interior ink system is tested according to the DBL standard
In the beginning we will deal with the two questions:
1. Which ink type is suitable for the design of your surface?
On the basis of the ink types, we can then select an ink suitable for your surface, such as water-based ink, UV ink or LED ink
2. Is the printed surface compatible with the planned finishing and is the required fastness achieved?
We have an answer here as well. We carry out tests in our technical centre. Print samples are printed with selected inks to find the best ink for your substrate
In our technical centre, relevant printing processes are simulated, reliable process chains are developed and optimised. With the selection and know-how of our application engineers, we work with you to find the right ink for your substrate.
Creation of waveforms for your inks
Customised print head integration on request
We have tested various substrates in the following areas. Please ask us for details.
Wood-based materials
Glass
Plastic foils
Plastic sheets
Metals
Paper/Box