Our Markets
Printed electronics
The application opportunities of functional printing processes know no bounds and something new is being added every day: for example, the production of antennas, membrane keypads or strip conductors.

We support our customers in the development of new processes by providing process entry solutions ("Lab-to-Fab"), which we test in our own technical centre. We also perform feasibility studies.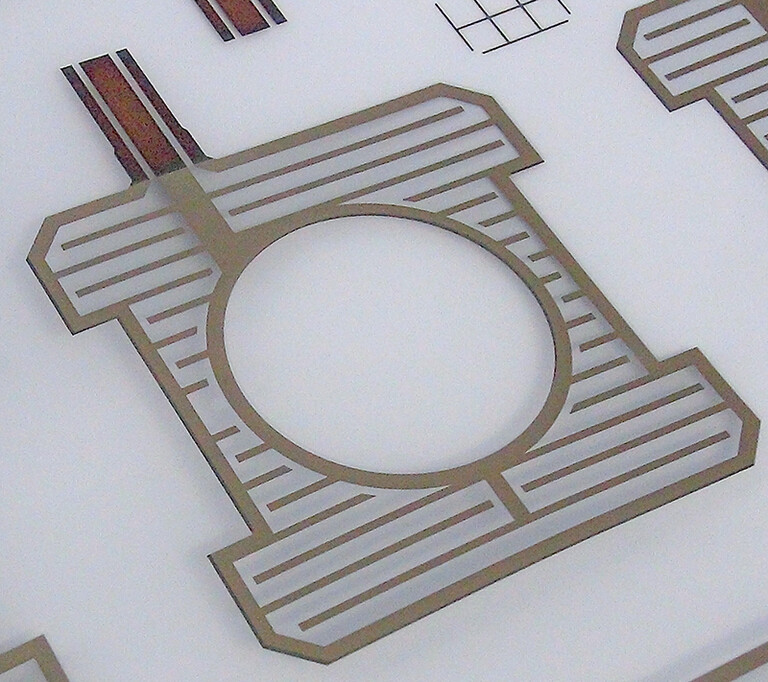 Thieme offers customized systems ranging from the semi-automated machine to the roll-roll system which are impressively reproducible with their easy parameter change, high precision and sophisticated technology. The custom-fit handling technology can also be easily integrated in different measuring systems. The adjustment options such as squeegee angle, diagonal position of the squeegee mechanism or sieve lifting height make the machine even more individualised.
Special features
An application in printed electronics does not depend on the electronic function of the material but rather also on its process capacity in the corresponding printing process.
Full-surface coating with defined layer thickness
Highly precise partial coating of functional materials (e.g. gasket material, adhesive materials; conductive materials)
Printing of electronic and organic components (e.g.. solar cells, RFID, batteries, fuel cell elements)
Precision printing of several identical or different layers
Examples of use
Sensors
Large-surface application of ITO and IMITO coatings
OLED
Resistors
EMC coatings
RFID
Topseller - Printed Electronics
Printed Electronics
Get in contact with us!
We will be happy to advise you personally.
Let us determine the optimal machine configuration for you together.