SCREEN PRINTING SERIES
THIEME 1000 S / 3000 S
3/4 automatic, shuttle table, long stroke screen printing machine for large format printing. The THIEME 1000 S/3000 S is also available as semi-automatic system.
With the THIEME 1000 S/3000 S set-up times and product spoilage, typically synonymous with large format printing, is a thing of the past
Wide variety of options and accessories according to your needs and type of application
Particularly suitable for printing on glass and other rigid materials
Custom-designed characteristics: Application rollers, various table surfaces, adjustable stops according to needs, air cushions, interfaces for further components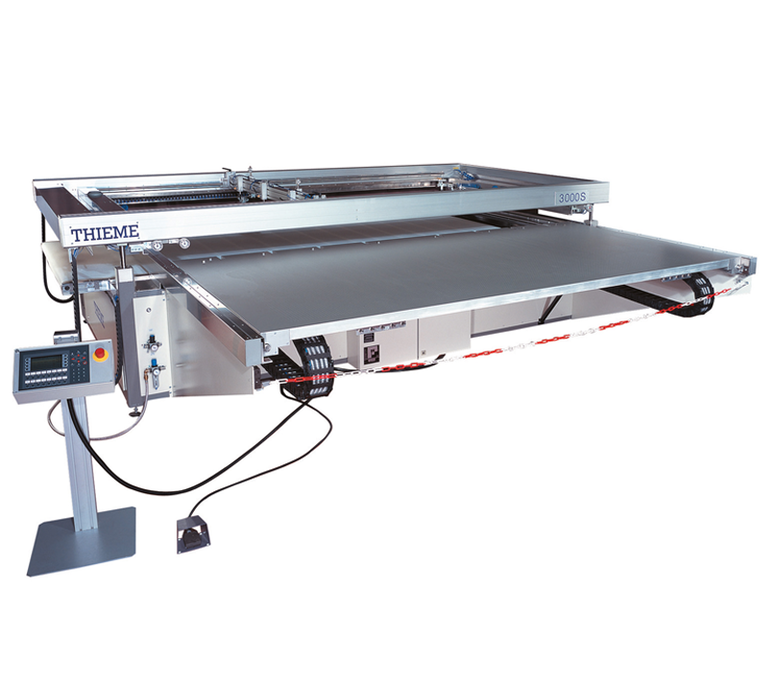 Why THIEME 1000 S/3000 S?
Large format printing up to 4000 x 2000 mm
Suitable for heavy substrates
Highest process stability
Short make ready times
Equipment variations individually designed to customer
requirements
Low depreciation
Thieme quality "Made in Germany"
Specifics
Shuttle printing table with servo motor-driven table drive
Variety of take off systems available to suit the application (gripper, fork, conveyor)
Longstroke squeegee design
Patented screen frame mounting system with synchronized screen support rails
Motorized Screen Lifting
Modern touchscreen panel
Camera system for automatic screen alignment and / or sheet registration (optional)
Technical data
Type of machine
1250
1500
1700
2000
Standard format wide [mm]
1250
1500
1700
2000
Standard format length [mm]

2000, 2300, 2500, 2700, 3050, 3700, 4000

Special formats possible

Range of substrate thickness max. [mm]

16 ( 3/4 - automated)
50 (1/2 - automated)

Screen adjustment [mm]
+/- 10
Squeegee speed [m/sec]
0,2 - 1,2
Conveyor belt speed [m/min]
27
Power supply [V]
230/60 , 400/50
Circuit connection [kW]
3,9
Print speed on request.
All technical information are not binding and subject to change.
Example options
Fields of application
THIEME 1000 S - 3000 S