our markets
Coins, Medals & Precious metals
Coloured coins, where parts of the minted motif are coloured, are becoming increasingly popular. At the same time, the colour application brings additional variety.

We have developed a unique inkjet printing system for printing and colouring coins, medals and precious metals.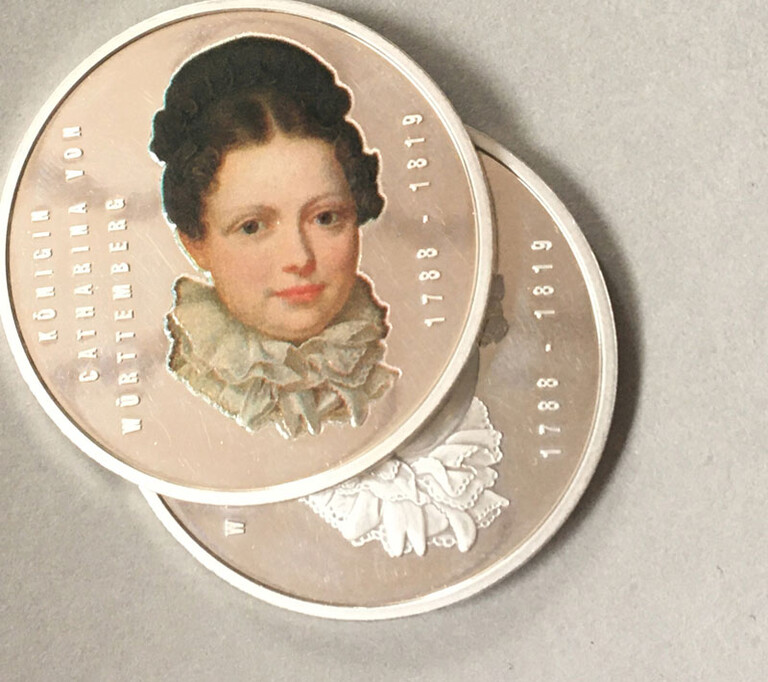 Precise alignment of the coin blanks before printing is crucial for a perfect printing result on the three-dimensionally embossed reliefs. In addition, the ink application must be so stable that the coloured coins survive the final rolling process undamaged.

Up to now, the printing of coins and other precious metals was mainly done by pad printing.

Thieme has developed a new type of digital coin printer that considerably accelerates the printing process. The inkjet printing system, which is unique on the market, works with tested special inks that guarantee optimum adhesion and abrasion resistance of the ink application on the metal substrates.

The system offers a total of seven colour channels (CMYK, white as well as primer and top coat); a fluorescent clear coat is also available for special lighting effects.
Special features
Advantages compared to pad printing
Prepress is completely eliminated
Makeready times are minimised to a fraction of the usual amount
Consistent print quality, even with long runs
Quick and easy sample creation for your customers
Consecutive numbering as a security feature
Efficient feeding, automatic alignment
Double table system - Parallel loading/unloading - Printing
Flexible acceptance of coins, ingots through exchangeable adapter plate
Digital Image Alignment - High-precision digital alignment of the print image to the printed material
High print quality
Excellent adhesion due to inline primer coating
Excellent abrasion properties thanks to inline topcoat
Impressive print quality 4C and white
Resolutions: 800 x 1500 dpi, 800 x 1800 dpi, 800 x 2100 dpi and 1600 x 1500 dpi possible depending on the image
Possibility of fluorescent varnish for security features
High productivity
Cycle time approx. 180s per plate
Printing capacity up to 1600 coins/hour possible - depending on the diameter of the medal
Unbeatably inexpensive
Ink cost per coin below 1 euro cent (reference coin ø32 mm)
Examples of use 
Colouring of coins, medals and precious metals
Printing with fluorinating ink
Consecutive numbering as a security feature
Topseller - Coins, Medals & Precious metals
Get in contact with us!
We will be happy to advise you personally.
Let us determine the optimal machine configuration for you together.