Digital Printing Series
THIEME LAB D
For the development of products and manufacturing processes. Ideal for the manufacturing of prototypes and customer samples.

The most diverse industrial applications can be developed utilizing this open laboratory printing system and their production Parameters optimally coordinated in advance.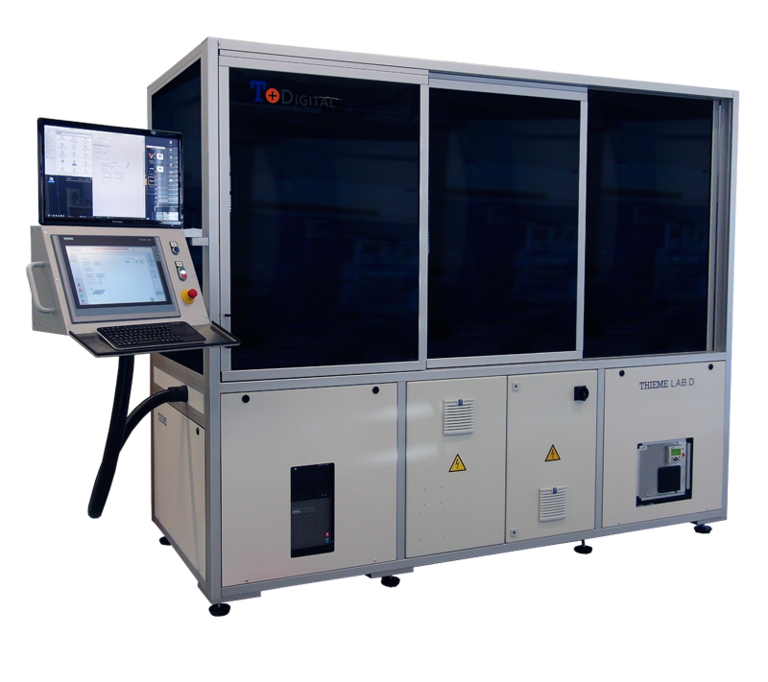 Why THIEME LAB D?
Platform for the development and approval of ink systems
For the evaluation of different printhead manufacturers
Direct access to printhead-specific parameters such as wave forms,
resolution, and printing modes
Integration of various drying technologies
Reliable transfer of the development parameters to production machine
solutions
First samples and prototype testing
Caldera Rip Software for printing parameters
Thieme quality "Made in Germany"
Specifics
For single and multipass applications
Highly precise, vibration-free linear technology
Variable print head arrangement
Substrate alignment by means of CCD cameras +/- 15 μm (optional)
Programmable camera software enables various reference marks
Easy Ink supply via cartgidge system
Optional integrated ink supply - with circulation, degassing, end shooter, ink heating, etc.
PLC control of all printing parameters
Variable UV parameters
Barrier-free development
Optimal matching of ink and process: Determination of optimal process parameters:

Printhead parameters
Printing modes
Drying performance

Inspection of process changes during production
Further development and testing of the process parallel to series production
Batch tests
Technical Data
Machine type
THIEME LAB D
Print size [mm]
400x210
Substrate weight max. [Kg]
2
Size of vacuum area [mm]
400x210
Substrate thickness max. [mm]
55
Table fine adjustment Y-Y-X [mm]
+/- 8
Outer dimensions (b/l/h) [mm]
1115x2687x2227
Weight [Kg]
1000
Mechanical repeatability [μm]
+/- 15
Power supply [V]
400/230
Circuit connection [kW]
machine 3, uv system 3,6
Consumption [A/V]
12/400
All technical information is not binding and is subject to change.
Example options
THIEME LAB D