SCREEN PRINTING SERIES
THIEME LAB 1000
High precision screen printer with automatic screen alignment and automatic substrate alignment with CCD cameras
For the use in product and process development
Designed for selective coatings such as printed electronics, solar cells, RFID and organic electronics
Precise alignment of single- and multilayer
Shortest setup time for the screen, substrate and printmedia
Simple parameter control and precise documentation
Thieme quality "Made in Germany"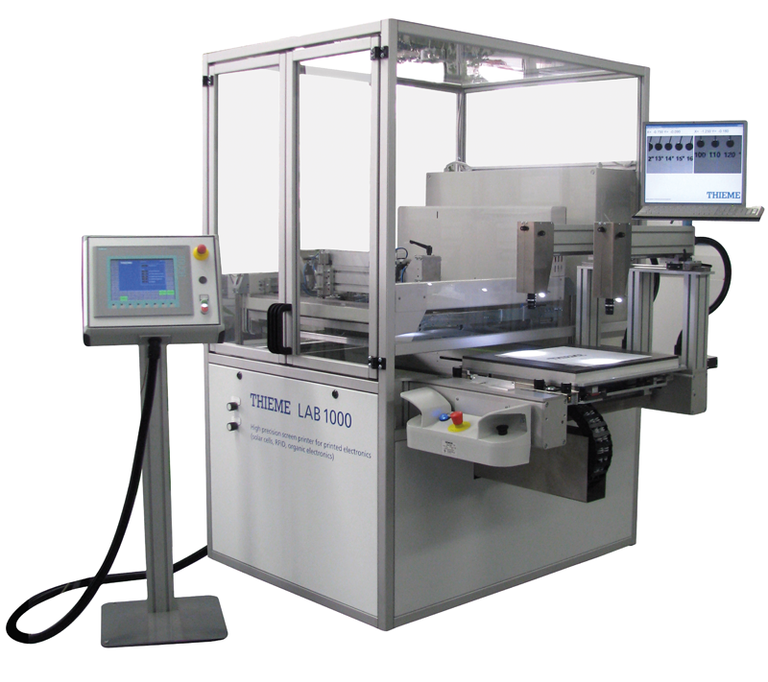 Why THIEME LAB 1000?
Precise alignment of single- and multilayer
Shortest setup time for the screen, substrate and printmedia
Simple parameter control and precise documentation
Thieme quality "Made in Germany"
Specifics
High precision screen printer
Automatic screen alignment with CCD cameras
Automatic substrate alignment with CCD cameras
Teachable camera software to allow different fiducial marks
Patented squeegee system with automatic pressure control and self alignment
Automated change of screen without removal of squeegee and flood bar
PLC Control of all printing parameters with Siemens color touch panel
Documentation and download of process parameters to perform statistics
Technical data
Type of machine
400
600
Print size [mm]
400x400
600x600
Sheet size max. [mm]
420x420
620x620
Frame size max. [mm]
850x800
1050x1000
Frame size min. [mm]
300x240
300x240
Size of vacuum area [mm]
400x400
600x600
Outer dimensions (wxlxh) [mm]
1685x1570x2200
2085x1770x2200
Weight [kg]
950
1050
Max. substrate thickness [mm]
20
Table fine adjustment Y-Y-X [mm]
+/- 8
Squeegee speed [m/sec]
50-1000
Mechanical repeatability
Screen alignment [µm]
+ / - 15
Mechanical repeatability
Substrate alignment [µm]
+ / - 15
Power supply [V]
400/230
Circuit connection [kW]
3,5
Consumption [A/V]
6,5/400
Print speed on request.
All technical information are not binding and subject to change.
Example options
Fields of application
The application opportunities of functional printing processes know no bounds and something new is being added every day: for example, the production of antennas, membrane keypads or strip conductors.
We support our customers in the development of new processes by providing process entry solutions ("Lab-to-Fab"), which we test in our own Technology Center. We also perform feasibility studies.


More ...

Are you seeking solutions for the production of fuel cells, thin-layer solar cells (CIGS, DSSC, etc.), batteries or the like? Thieme designs its customized print line in close collaboration with its customers.

Machines are built for roll-to-roll, thin layer on glass, and even for high-precision screen printing applications.

More ...

Innovations and new developments are constantly being worked on in the laboratories. This is how we can guarantee that "Future Screen Printing" is also implemented. Environmental requirements and legal regulations constantly challenge manufacturers to make their products even better and more efficient.

Of course, we also develop according to customer-specific requirements in order to meet their sometimes even higher standards.

More ...
THIEME LAB 1000