A groundbreaking change has taken place in the world of coins. We present the new digital technology used to print coins and medals today.
Highly efficient colouring of coins and medals
New digital technology revolutionises coin colouring
In the past, colouring coins and medals was an extremely time-consuming and costly process. It was necessary to intervene manually in the production process and produce a separate cliché for each colour. Thanks to the successful collaboration between our engineers and the "Staatliche Münzen of Baden-Württemberg", this has now changed radically.
The future: digital colouring of coins and medals
Imagine a coin blank entering a state-of-the-art printing machine. The print heads are ready to conjure up colours in an unprecedented variety on the coin's surface. The system essentially works like an inkjet printer for paper, but with the crucial difference that it was developed for coins.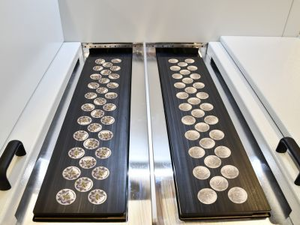 Simple operation and automated printing process
Well-functioning automation and simple operation are crucial for an efficient printing process. The digital printing system works with interchangeable adapter plates, known as trays. Depending on the size of the coins, several dozen can be inserted into the trays and printed at the same time. This takes around three minutes per tray. With a double table, for example, up to 1600 coins can be printed per hour.
Benefit from the efficiency of customised lot sizes
Because operating the digital printing system and printing the coins or medals is so easy, it doesn't matter whether you need

1 coin - for example as individualised collector and commemorative coins or
1,000,000 coins - as circulation coins or even
Gold bars - personalised
personalised according to the customer's needs and wishes.

We have the right digital printing machines in our portfolio for every requirement. If desired, even with an automatic loader.
Precise perfection thanks to digital image alignment
Another milestone in innovation is the digital image alignment system "Digital Image Alignment". Previously, the coins had to be brought into the correct position during the printing process with a great deal of manual effort. Today, this is done automatically and in a matter of seconds. The printing machine recognises the exact position of each coin and adjusts the stored print layout accordingly. This automated approach not only saves valuable time, but also guarantees precise alignment, which is essential for a perfect print result.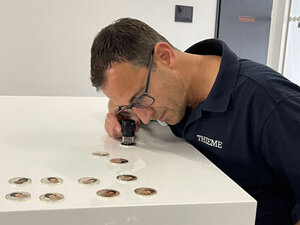 Excellent print quality thanks to high resolution
Increased productivity is by no means at the expense of print quality. With individually adjustable resolutions, even the finest embossing motifs can be printed with the highest quality, colour accuracy and intensity. The individual colour dots are tiny and measure only hundredths of a millimetre. In contrast to traditional pad printing, which was bound to certain quality limitations, digital printing can offer consistently high quality for any print run. Regardless of whether it is a batch size of 1 or 1,000,000.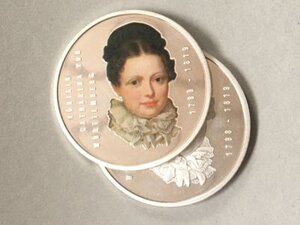 Colour gradients and photorealism thanks to digital printing technology
This innovation not only enables the use of single colours, but also breathtaking colour gradients and photorealistic effects.

This technological evolution considerably expands the artistic possibilities and gives coin designers the freedom to realise their ideas in colour and form.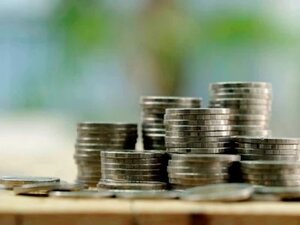 Resistance in everyday life
Of course, durability is a key factor for printed coins. Not only do they need to survive the printing process undamaged, they also need to stand the test of time. The ink setup customised for this system, offers exceptional adhesion and abrasion resistance and has an impressive resistance to the challenges of everyday life.
A new era in coin colouring
Overall, this unique digital printing system opens up an exciting new era for the world of coin colouring. The fusion of technology and creativity has created a platform on which coins become true works of art.
Conclusion
The introduction of the digital printing system has ushered in a revolution in the world of coin colouring. The new digital technology enables high efficiency and creative variety in the printing of coins and medals. With automated image alignment, simple operation and customisable resolutions, coins can now be produced in impressive quality and variety. This digital revolution opens up a new era in coin colouring, where art and technology go hand in hand to create unique and durable products.
Inkjet printing system solutions for colouring coins and medals at a glance: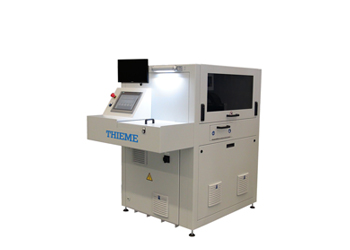 Inkjet printing system with high-precision automatic alignment system for small quantities
More about THIEME 502 D MINT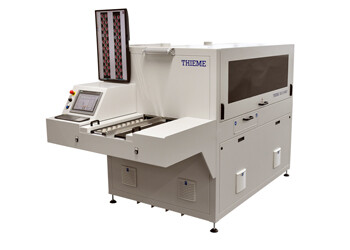 Inkjet printing system with high-precision automatic alignment system for large quantities
More about THIEME 505 D MINT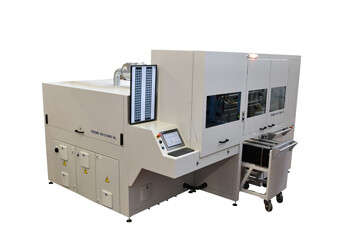 Inkjet printing system with high-precision automatic alignment system with automatic loader
More about THIEME 505 D MINT AL
#Coincolouring #Digitalprintingmachine #DigitalPrinting
---
The last 3 blog entries
Why our digital printing machines are unbeatable in industrial digital printing!

Jun 30, 2023

Read article

Combined expertise in a dynamic duo

Aug 16, 2023

Read article

Product tracking in the printing process

Jul 3, 2023

Read article