In our in-house Technology Center, we have an expert team that ensures our printing systems meet the needs of our customers. Each team member has their own area of expertise. Regular exchange keeps them up-to-date. Find out why Mr. Landerer's escape routes seem to appear magically and what the biggest challenge was for Mr. Kraft.
Combined expertise in a dynamic duo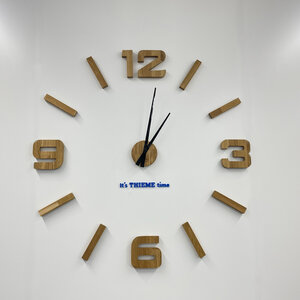 It's THIEME time!
In our Technology Center, we have screen printing and digital printing machines operating under real production conditions. Here, our customers have the opportunity to extensively validate and test their printing processes, explore new application fields, and develop their application processes.
Our application engineering expert team ensures that the equipment can be effectively and efficiently utilized to meet customer requirements.
Mr. Landerer is a specialist in screen printing, while Mr. Kraft is an expert in digital printing. Both collaborate closely, exchanging ideas and providing support for each other.
How can you imagine our daily routine?

Each day brings new challenges, making it difficult to describe a fixed daily routine.
When there are no customers on-site, we often engage in commissioning or various experiments to continuously improve our equipment and their printed results - these are known as market-related basic tests.
Another significant portion of our time is devoted to communication via email or phone with our customers, providing support for our equipment and addressing inquiries about potential improvements in print results.
Regularly, we also create various documentations about the processes in our equipment.
When customers visit our Technology Center, all types of tests are directly printed on the machines, and we work together with the customers to verify the feasibility of various applications.
What requirements do our customers come to the Technology Center with?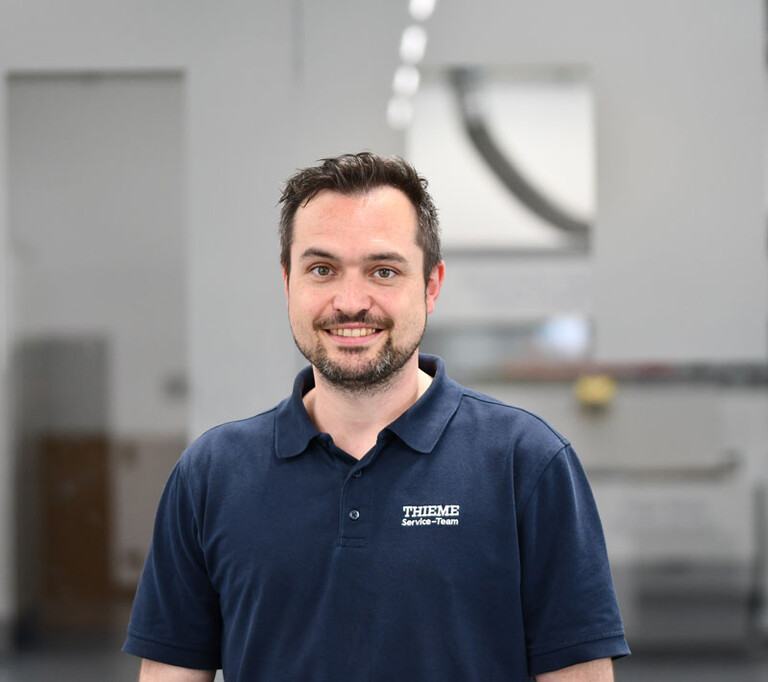 Mr. Landerer - Screen Printing
Our customers are almost always in search of an individual and ideal solution, whether it's to
improve their materials in terms of printing,
produce their product or component with less effort,
achieve a better cost-benefit ratio, or
test whether an idea can be turned into a product.
Often, these possibilities cannot be realized by customers on their own equipment (if they have any) or lack experience in new applications. This is precisely where we come in at the Technology Center. Here, the possibilities and options are discussed in preliminary meetings and then implemented and verified directly on the corresponding printing equipment.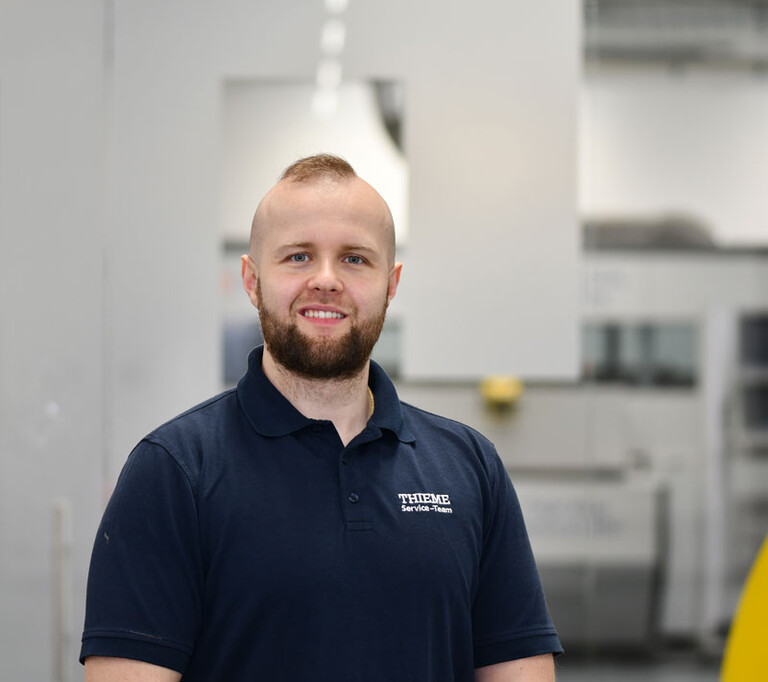 Mr. Kraft - Digital Printing
It depends on the customer. Sometimes, customers come to us with no prior experience in digital printing and simply want to explore what is possible today in general. In such cases, we introduce them to the world of digital printing.
On the other hand, there are customers who already have basic knowledge and may even own a digital printing machine but encounter limitations in feasibility. To expand their possibilities, they approach us to conduct product tests on our digital printing equipment.
As well, we are occasionally presented with new challenges through customer inquiries, and by conducting various tests, we can broaden our horizons.
How do you work with the customer to ensure their requirements and expectations are met?

As mentioned earlier, in an initial discussion, we go over the customer's wishes and ideas. We align ourselves and assess what we can accomplish, establishing a workflow.
Before we embark on the first printing trials together with the customer at the printing equipment, we already have a very precise idea of the processes we need to employ to achieve the desired outcome.
As Mario Cortesi once said: "There are no problems, only solutions."
With our diverse testing possibilities and no time constraints, we often achieve the best possible solution for each specific application.
What has been the biggest challenge so far?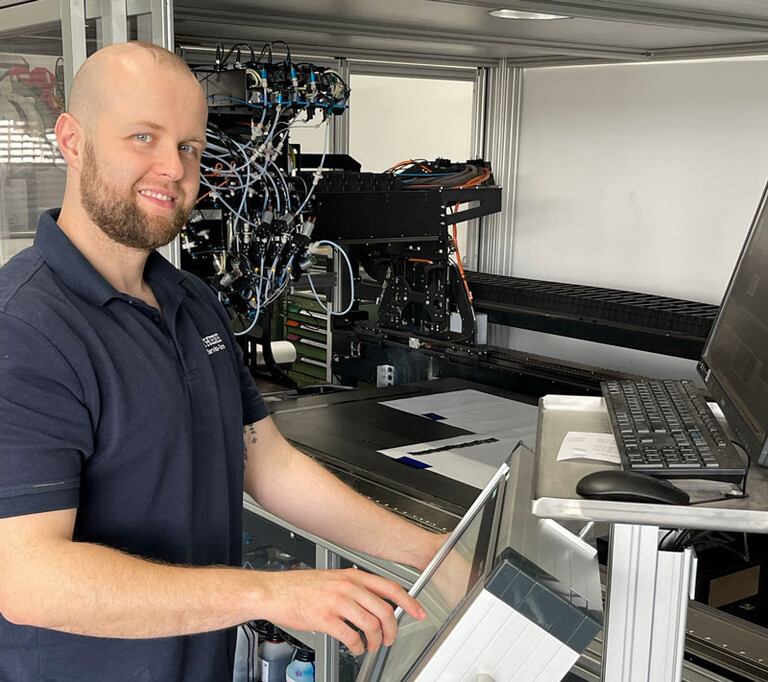 Mr. Kraft - Digital printing
My biggest challenge so far in the field of digital printing was working on the development of a printing process for a large digital printing system.

The task here was to determine the ink specified by the customer for the printing process on the substrate and the optimal adhesion and drying process.

Sounds simple - but it is not, because many components had to be coordinated with each other. The customer's main requirement was that the print should adhere even under enormous stress and that an extremely high print quality should be achieved.

For a perfect result, optimal substrate preparation is essential. The substrate surface was prepared by flaming in such a way that good wetting and adhesion of the ink was achieved. To achieve the specified cycle time, the drying parameters had to be precisely analysed and adjusted.

All these sub-processes had to be extensively tested and coordinated with each other in order to meet the high demands placed on the product.

For the entire development printing process, trials and tests were carried out for over a year on a specially built prototype system.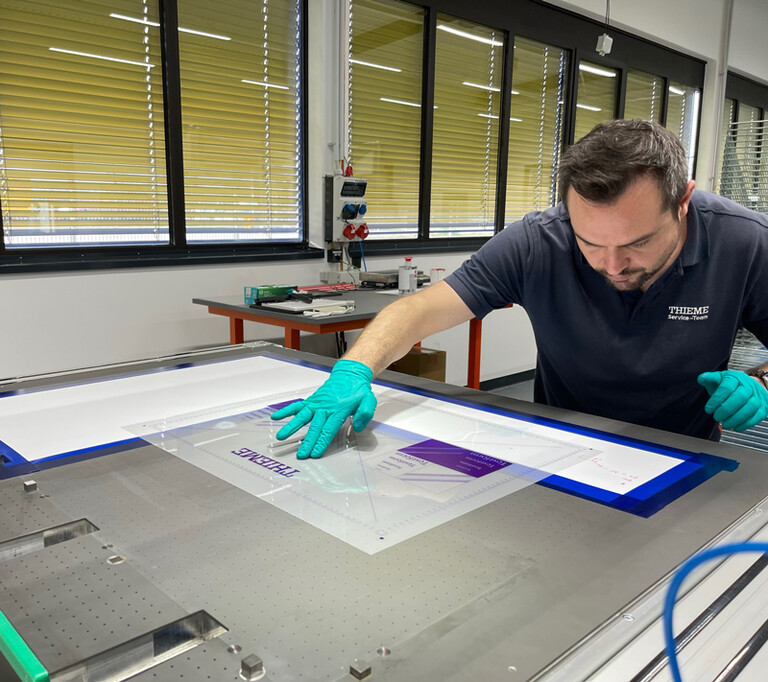 Mr. Landerer - Screen printing
My biggest challenge in screen printing was printing on already pre-formed materials.

Since the material was already deformed and the squeegee and screen are normally designed for straight shapes, the physical conditions were quite difficult.

With a specially adapted squeegee and a very elastic screen, we were then able to realise the print.

But there are always new challenges. A corresponding preliminary and test phase is of course essential.
What was the most impressive thing you printed in your work?

Mr. Landerer - Screen printing
Printing luminous strips in an intermediate layer in floors.

Without electricity, the luminous strips are not visible. However, as soon as a voltage source is applied, the escape route, for example, lights up as if by magic. I found that very impressive.

Mr. Kraft - digital printing
I am always impressed by the results when colouring coins and medals. This is where digital printing can really show its strengths. It is impressive how fine and filigree you can print in digital printing to bring even the smallest details and nuances onto the coin. The result is a high-quality and beautiful coin that delights every observer. Here, digital printing opens up completely new possibilities to design coins and medals individually and uniquely. For example, personalised commemorative coins or anniversary medals can be produced cost-effectively and quickly. Thanks to the high precision of digital printing, it is also possible to bring complex and detailed designs onto the coin and thus create a real work of art.
How does our production for small quantities work, and who is it suitable for?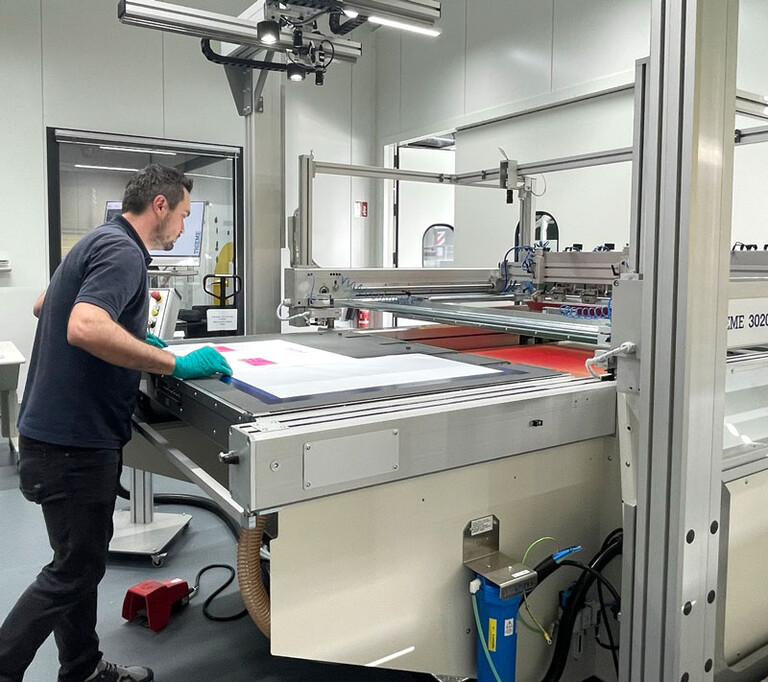 Mr. Landerer - Screen Printing
Customers and prospects have the option to rent our premises for their trials, including machines, personnel, catering, etc., allowing them to conduct their experiments or production with us.
For instance, we have a customer for whom we create print samples. They use these print samples to produce their end product and present the finished product to their end customers.
We also supported a medical technology startup in the market launch phase by printing a component of their medical device with our small-scale production. This allowed them to benefit from our small series for a short period before they could afford their own printing machine or find a suitable supplier.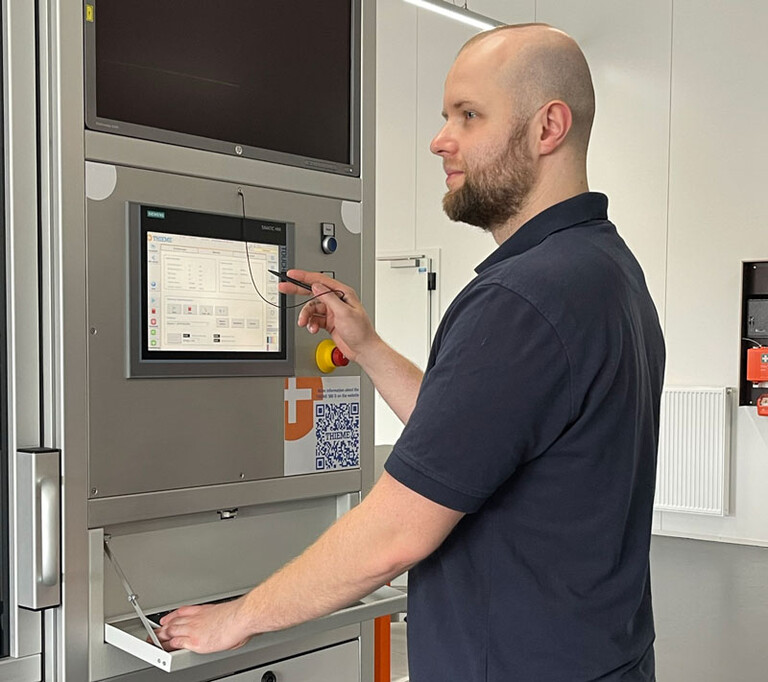 Mr. Kraft - Digital Printing
Either our sales team has already coordinated with the customer and provided me with the necessary information, or I often directly contact the customer via phone or email to clarify the print sample creation:
Print format
Print file specifications
Number of samples per file
Mirrored printing or not
Setting the print side
Defining print quality
Once everything is clear, I proceed with creating the print samples or the small quantity order, which is promptly shipped to the customer after printing.
How do you keep yourselves informed about the latest developments in the screen printing/digital printing industry?
Every year, we create a training plan where we list what is relevant to us, areas where we want to deepen our expertise, or topics we need to explore in general.
We also stay informed through constant interaction with an established network of experts in the printing field, which we have built over the years and continuously expand.
Additionally, we keep up to date through the internet, specialized journals, newsletters, or updates received directly from our suppliers or customers.
From which industries do customers use the Technology Center and your support?
Customers from a wide range of industries utilize the Technology Center and our support, including the packaging/food industry, glass industry, printed electronics, functional and decorative printing, and even the automotive industry. Essentially, there are no specific areas; we serve various sectors.
In the present day, printing is used for much more than one can imagine.
What would you like to print one day?
Mr. Kraft - Digital Printing
I would like to print security features on banknotes. That would be easily achievable with the THIEME 505 D MINT.
Mr. Landerer - Screen Printing
I find it truly exciting to print on "organic materials." There's almost nothing that cannot be printed using screen printing.
What is your favorite machine in the machinery lineup at the Technology Center?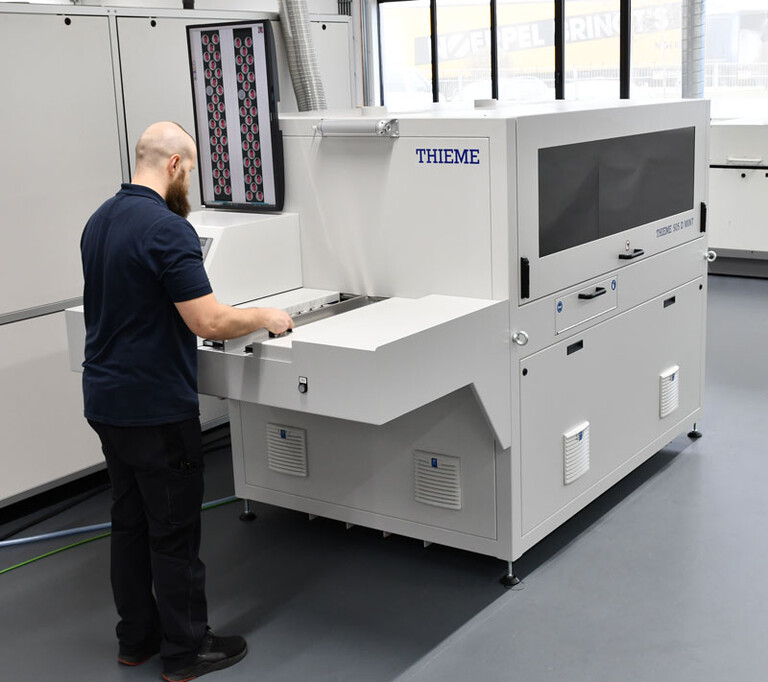 Digital Printing - Mr. Kraft
I enjoy working with the THIEME 505 D MINT digital system because it's a compact machine that is easy to operate. Originally designed for printing coins, it offers so many more possibilities, making it an excellent foundation for a new production system.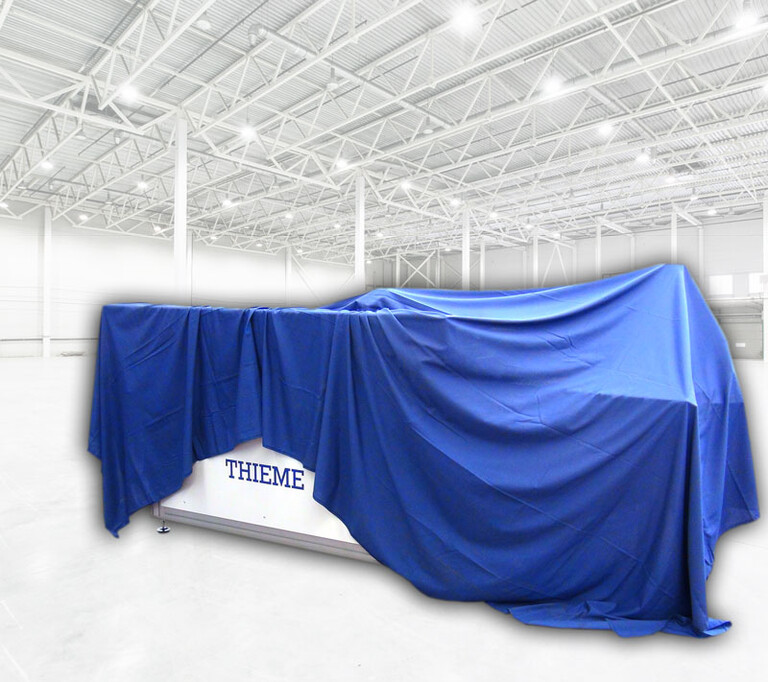 Screen Printing - Mr. Landerer
I'm looking forward to the new THIEME 3000 Vision with a feeder. I'm really excited about it. However, the 505 D MINT is also a very intriguing machine.
#DigitalPrintingMachine #DigitalPrinting #ScreenPrinting #ScreenPrintingMachine #TechnologyCenter #ApplicationTechnology
Experience the future of printing...
Discover the latest developments in screen printing and digital printing and explore new possibilities for your projects at our Technology Center!
Contact us now to arrange a visit and learn how our expert team can enhance your printing processes.
---
The last 3 blog entries
Leading with technology – and colour

Jul 4, 2023

Read article

Why our digital printing machines are unbeatable in industrial digital printing!

Jun 30, 2023

Read article

Boundless creativity in Screen Printing

Jun 12, 2023

Read article