Innovative customer solution! Together with the spreader technology manufacturer LEHNER Agrar GmbH from Westerstetten near Ulm, we have developed a salt spreader made of polyurethane (PUR) that is not only impressive in terms of its size but also represents a significant manufacturing advancement. Most notably, the production and assembly costs were significantly reduced.
Extremely Large parts moulded in a single piece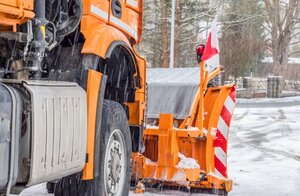 A Winter Morning. The streets are covered with a thick layer of snow, and the winter service must be fully deployed to ensure safe traffic routes. A crucial role in this is played by the salt spreader, which is designed to distribute the spreading agent effectively and efficiently.
In collaboration with the renowned spreading technology manufacturer LEHNER Agrar GmbH, THIEME has developed a groundbreaking customer solution: the Polaro® L/XL salt spreader made from polyurethane (PUR).
The special feature of this innovative spreader container lies not only in its impressive size but also in the significant progress in manufacturing technology. Through the close collaboration of both companies, not only were the production and assembly costs significantly reduced, but numerous advantages were also achieved in terms of storage, material properties, and assembly.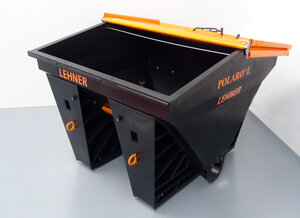 The new Polaro® L/XL spreader container is produced in two sizes with 380 and 550 litre contents, which correlates to a salt filling of 550 kg and 720 kg respectively. Such types of spreader containers are typically produced from sheet steel or fibreglass. "Lehner's previous version consisted of a hand layup fibreglass moulding which required significant amounts of time and labour consuming finishing and assembly work," explains the Sales Manager of Thieme's Plastics business unit. "That was one of the reasons why Lehner decided to go with a PUR design from Thieme for their new development."

The new PUR containers also simplify stowage during transport. While the previous models required mounting to metal frames, the new versions can now be transported on PUR pallets. Nothing more is required except two reinforcement braces be affixed to the container sides significantly reducing weight and eliminating the need for additional metal frames.
Favourable material properties
The Polaro® L/XL is produced as one piece moulded from black pigmented polyurethane; eliminating the need for a final surface treatment. The Baydur® GS PUR material has proven ideal for the application. It isn't foamed like other PUR compounds, but pro-cessed using a casting method. The moulds created in this way have particularly high rigidity, impact strength, along with excellent chemical and rotting resistance - required for such a harsh applica-tion during the winter months where the parts are exposed to severe weather and highly corrosive salt pellets.

Despite their stability and size – the Polaro® XL measures 1400 x 1170 x 800 mm – the parts are relatively lightweight (XL: 43 kg L: 35 kg). The Lehner spreader containers are some of the largest PUR moulds ever designed and fabricated at Thieme. Despite the extremely large opening (2.80 m) large-scale mould required for this, a conventional demoulding process was still not possible for this gigantic part. For this reason, the Thieme technicians devel-oped a customized sliding platen system allowing easier access to the lower half of the mould ensuring easy demould.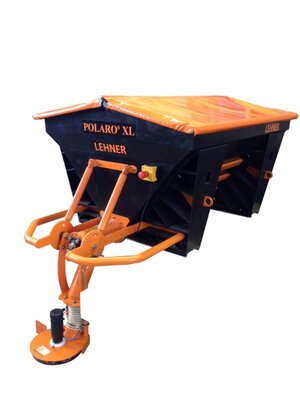 Considerable simplification of the assembly
In addition to the excellent durability and low specific weight of the parts, the PUR process offers yet another distinct advantage, referred to as "functional integration": The mount for the worm gear, guide rails for the metal frames which support the tarpaulin, and the fasteners used to mount are moulded directly into the parts during the manufacturing process, which makes the final assembly of the winter road maintenance spreader easier.

All in all, we were able to achieve considerable cost savings thanks to our efficient production and assembly. The conversion of the material from fibre glass reinforced plastic to PUR has also paid off in every respect.
Conclusion!
Together with LEHNER Agrar GmbH have developed the Polaro® L/XL salt spreading container made of polyurethane (PUR).

This innovative spreader hopper features impressive size and significant advances in manufacturing technology, resulting in reduced costs, improved storage, better material properties and simplified assembly.

The use of PUR, particularly Baydur® GS, enables durable, corrosion-resistant and lightweight components. The change from glass fibre to PUR has proven to be extremely beneficial, resulting in significant cost savings and simplified assembly.
#polyurethane #CustomerSolution #CustomerDevelopment
---
The last 3 blog entries
Leading with technology – and colour

Jul 4, 2023

Read article

Boundless creativity in Screen Printing

Jun 12, 2023

Read article

25 years of know-how: trainers and IHK examiners shape successful careers

Mar 8, 2023

Read article