Printing Systems
Technology Center
The development platform for industrial screen printing and digital printing
At the THIEME Technology Center we offer customers, partners, start-ups and interested users state-of-the-art printing technology in the form of screen printing and digital printing machines as well as drying facilities for evaluating their printing processes in a real production environment - from basic research to pilot or small batch production.

PRECISE COORDINATION OF PROCESS AND MACHINE TECHNOLOGY - EXACTLY FOR YOUR APPLICATION!
Complex printing applications, especially in the industrial sector, require precise coordination of process and machine technology. Therefore, it is our goal to offer customers and interested parties the best possibilities to clarify and test relevant parameters of their application and to investigate new technologies.
Let's shape the future together
The Technology Center offers startups, companies and professionals the opportunity to work on projects related to product development, innovation, materials research and manufacturing operations.
Our goals
SUPPORT IN
SCREEN PRINTING OR DIGITAL PRINTING
- In the creation of R&D prototypes
- In evaluating your processes
- In the production of pilot series or small batches
Our team of application experts brings strong solutions and know-how to customer-specific projects.

If required, the design and control department supports you with a detailed elaboration of project and product development.

Screen printing and digital printing in a real manufacturing environment
In the Technology Center, they will find ready-to-use screen printing and digital printing presses that give them plenty of scope to extensively validate and test their printing processes, sound out new fields of application, and develop the application process. Here, processes and machine technology can be precisely coordinated.
STATE OF THE ART MACHINERY
From laboratory machines to production equipment
Production-oriented screen printing and digital printing machines
For testing under production conditions
For testing possibilities whose results can be scaled to production lines
For printing pilot and small batches
Extensive drying equipment
Circulating air continuous dryers up to 200 degrees
UV dryer
Infrared dryers
High temperature drying ovens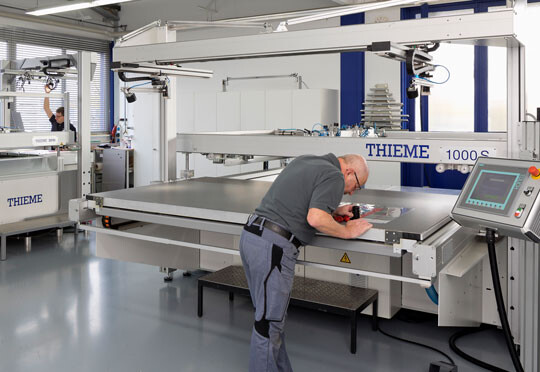 MANIFOLD POSSIBILITIES
Feasibility studies
Manufacturability evaluations
Material testing
Print and drying tests
Develop processes
Develop new technologies
Manufacture of prototypes up to pilot series
Test printing materials and substrates
Complex printing applications also require precise matching of printing materials. In our Technology Center, you can test your material using our test machines and thus determine the best solution for you!

The following list is only a few test materials and substrates that have already been realized by us. You are welcome to test your material!
Substrates
with convex or concave surfaces
are flexible or rigid
Paper / cardboard
All plastics e.g. PVC, Corex, polystyrene, polyethylene
Conductive plastic film
Imitation leather / leather
Metals e.g. copper plates
Rubber e.g. shoe soles
Stainless steel sheets
Fabrics / textiles
Glass / ceramics
Tiles
Banners / tarpaulins
Industrial printing applications
An excerpt of industrial printing applications that have already been developed by us.
Developing customised solutions for you
From the initial idea to the finished customer press! We take on the design and project management for the development of the perfect printing press solution according to individual customer requirements. The Technology Center plays a decisive role.