SCREEN PRINTING SERIES
THIEME 5000 XL
High technology for large format multicolour print
Printing capacity up to 3000 m²/h (depending on the print size)
Print size up to 2000 x 3300 mm
Substrate thickness up to 10 mm
Set-up time <5 minutes per printing station
Operational availability > 95%
All machine features have been developed especially for printing large formats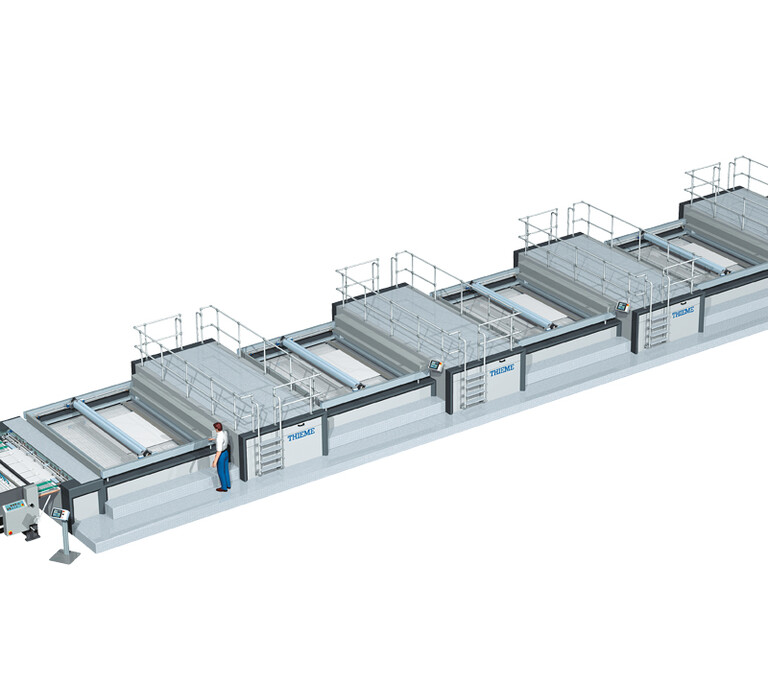 Why THIEME 5000 XL?
Productivity of up to 3000 m² / hour
Most extensive range of possible colors and printing substrates
Fully automated line for lower operating cost
The lowest printing costs for medium and larger print runs
Short make ready times [< 5 min per color station]
Low Depreciation
Thieme quality "Made in Germany"
Specifics
Modular design, can be expanded to include up to 6 print works
Substrate transported by a continuous gripper system
UV-Scan intermediate dryer for perfect ink curing
Automatic sheet positioning
High precision and speed through servo driven system
Printing parameters can be stored for recurring print jobs
Outstanding printing results thanks to the reinforced aluminum printing table and the new THIEME-XL squeegee unit
Loading / Unloading by pallets
Can also be used as a ¾ - automatic system
Robust machine design and build quality
Technical data
Type of machine
5060 XL
5070 XL
5080 XL
5085 XL
5090 XL
5095 XL
5000 XXL
Print size [mm]
1600x2100
1600x2600
1600x3050
1600x3300
2000x3050
2000x3300
2600x3700
Sheet size max. [mm]
1660x2160
1660x2660
1660x3110
1660x3360
2060x3110
2060x3360
2660x3760
Frame size [mm]
2400x2900
2400x3400
2400x3850
2400x4100
2800x3850
2800x4100
3400x4500
Number of printing stations
1-6
Range of substrate thickness [mm]
0,1-6
Range of substrate weight [g/m²]
120-3000
Print speed on request.
All technical information are not binding and subject to change.