SCREEN PRINTING SERIES
THIEME 5000 Multicolour Line
Modular screen printing system from 2-6 colours with rotary gripper system. Highest performance, speed and reliability.
Multi-shift endurance and performance
Up-time throughput
User-friendly operation
Modern control design
Flexible software for diverse screen printing applications
Modular conception
The drive and gripper system together with the associated control units are designed to be retro-fitted to the printing and drying stations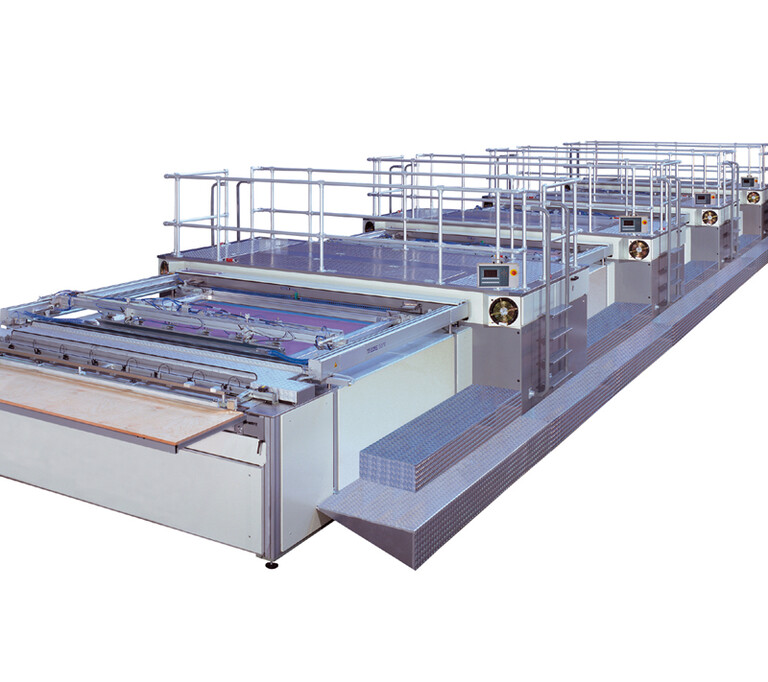 Why THIEME 5000 MC?
Print sizes up to 1400 x 1800 mm
Multi-shift endurance and performance
Short set-up times
High availability
Thieme quality "Made in Germany"
Specifics
Print output up to 2500 m² (depending on the print format)
User friendly operation
Modular design
SPC control system with touch-screen display
Proven THIEME squeegee Unit
Fully engineered security technology
Technical data
Type of machine
5020 MC
5030 MC
5040 MC
5050 MC
Print size [mm]
750x1050
1000x1400
1200x1600
1400x1800
Sheet size max. [mm]
800x1100
1050x1450
1250x1650
1450x1850
Frame size [mm]
1200x1400
1450x1750
1700x2000
1900x2200
Range of substrate thickness [mm]
0,1 - 6
Screen fine tuning X-X-Y [mm]
+/- 5
Squeegee speed [m/sec]
0,3 -1,5
Number of printing stations [Unit]
2 - 6
Range of substrate weight [g/m2]
120 - 3000
Gripper margin approx. [mm]
8

Print speed on request.
All technical information are not binding and subject to change.