SCREEN PRINTING SERIES
THIEME 1000 E
Semi-automatic shuttle table screen printing machine with moving print table for printing on rigid and flexible materials as used in electronic applications.
High precision screen printing and easy operation on the highest technological level, max. adjustment to the print requirement
Compact machine design
The whole machine concept allows short set-up times and economic handling
Available with THIEME CleanPrint
The anti-drip feature provides perfect print quality and works well with translucent ink applications
Precise printing results with optional THIEME screen compensation system
The basic machine can be customized on request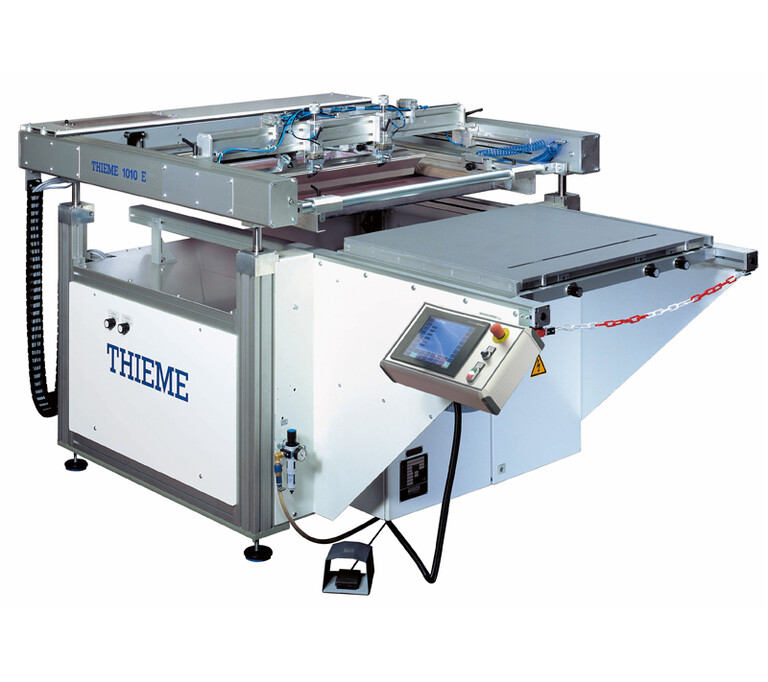 Why THIEME 1000 E?
Customer-specific substrate positioning guides
High reproducibility of + / - 50 μm
Precise and fast make ready using the film set-up system
High-precision table adjustment unit
Low depreciation
Thieme quality "Made in Germany"
Reinforced shuttle print table with 12 mm thick aluminum print surface
Specifics
Precise screen alignment by pneumatic 3-point system
Modern touchscreen panel for user-friendly operation
Pneumatic screen frame release
Adaptation of the basic machine to the customer's specific requirements
Absolute precision thanks to optional screen tension compensation device
Anti-drip squeegee system (optional)
Automated Clean Print unit (optional)
Technical data
Type of machine
1010 E
1020 E
Print size [mm]
550x750
750x1050
Sheet size max. [mm]
570x770
770x1070
Frame size [mm]
1000x1100
1200x1400
Table - External dimensions [mm]
800x1100
1000x1300
Vacuum field size [mm]
525x735
720x1020
Weight [kg]
1200
1300
Max. range of substrate thickness [mm]
20
Table fine tuning X-X-Y [mm]
+/- 10
Squeegee speed [m/sec]
0,05-0,6
0,15-1,0
Power supply [V]
400/230
Circuit connection [kW]
3,4
Consumption [A/V]
12/400
Print speed on request.
All technical information are not binding and subject to change.