Components and Options
Specific printing processes for individual customer requirements
Printing Systems
Components and options
Thieme applies its many years of experience in the development and implementation of individual machines in accordance with customer requirements. The customer with his/her specific printing process is brought to the foreground and included in every step of development.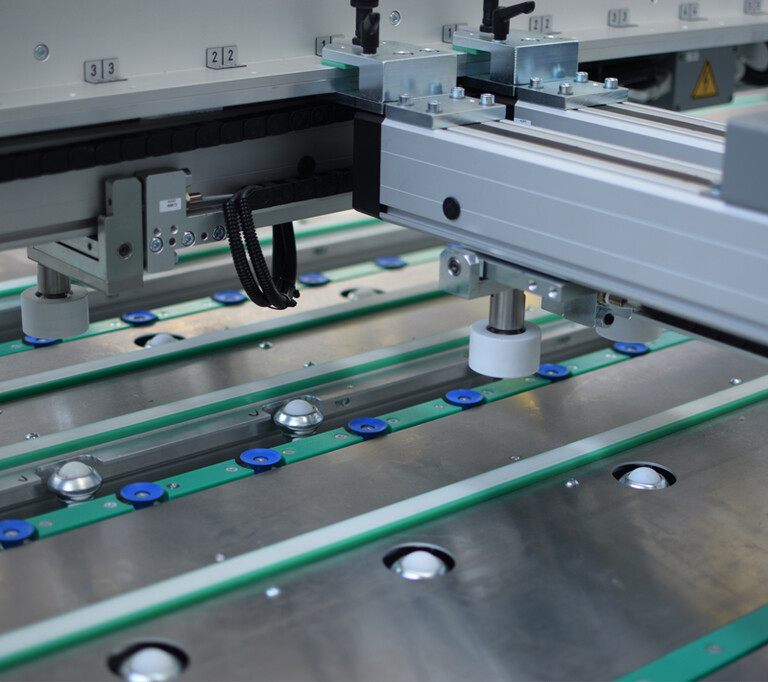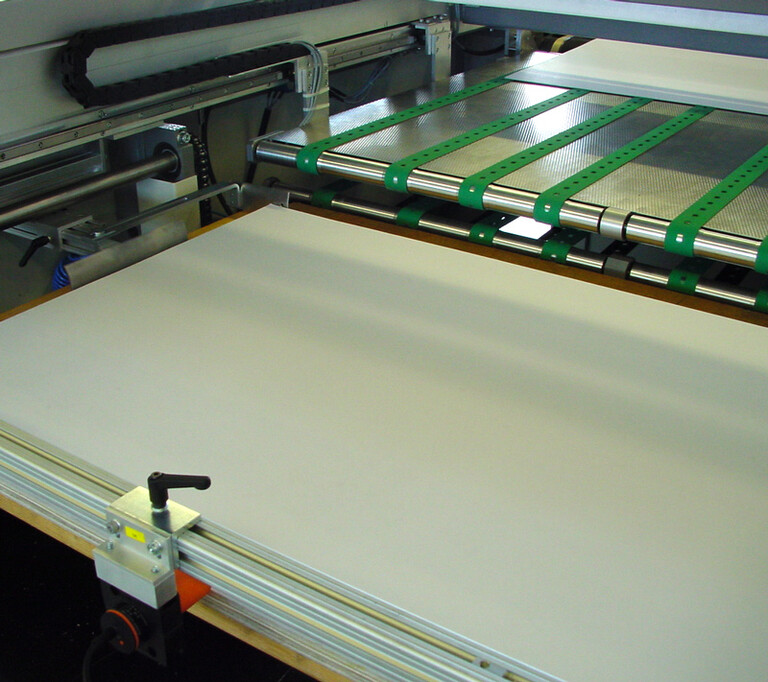 Components
Laying and stacking
Automation not only reduces costs but also ensures high process reliability. In-line and off-line system concepts for the most diverse substrates are designed to meet customer requirements and implemented for laying and stacking in a way that is gentle on the material. A wide variety of variants matched to the transfer to/from the printing stations.
Handling which is gentle on the material
Industrial environment
Customized designs
Handling which is gentle on the material
Customized designs
High outputs
Standard solutions available
Proven technology
Components
Conveyer technology
Thieme develops and builds conveyor technology for a large number of flexible and rigid printing materials. This technology focuses on feeding the printing materials to the printing and drying processes.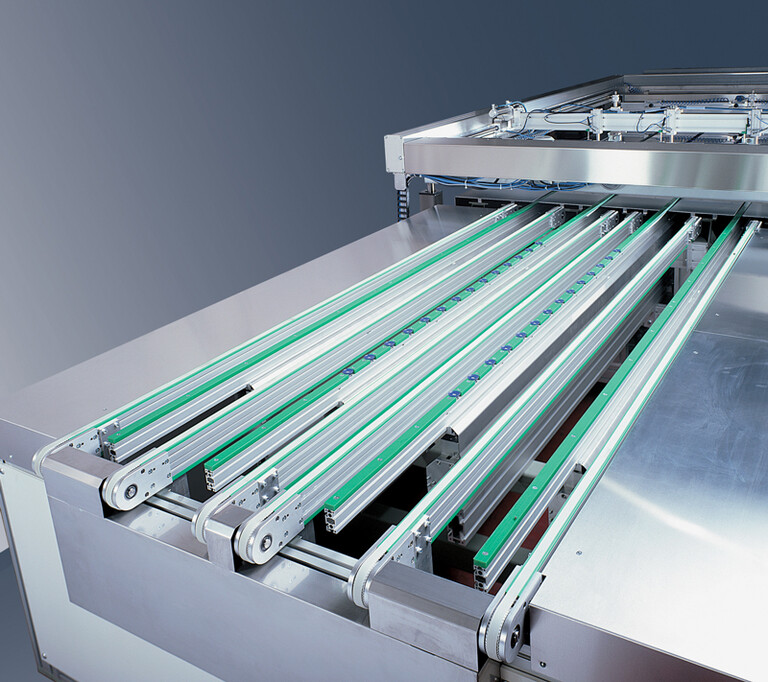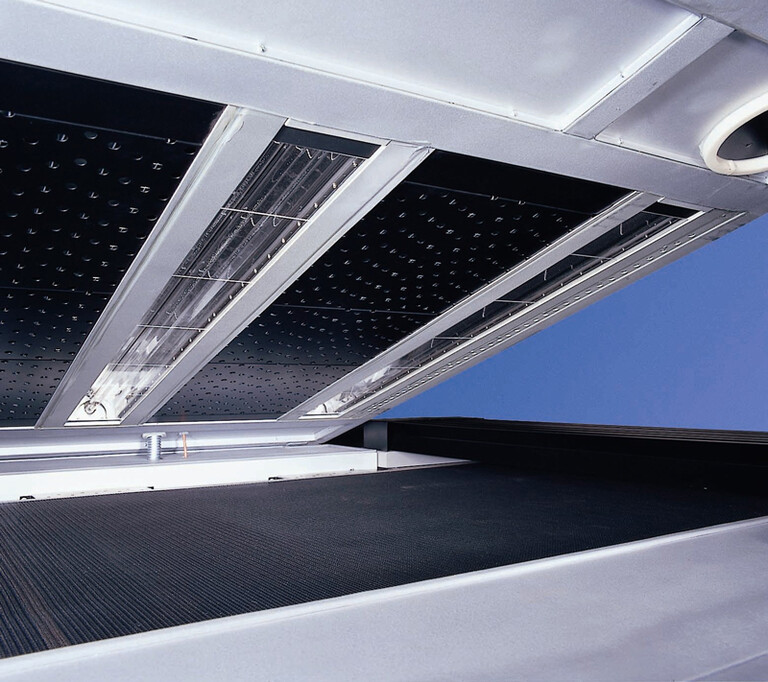 Components
Dryer technologies
Drying is an important component of the printing process and should also be matched to the application.

Thieme collaborates with prominent manufacturers in the area of dryer technology and will be happy to advise you on how to achieve optimal process coordination. The modular design makes it possible to achieve numerous combinations.
Two important topics in this area are the reduction in energy consumption and heat recovery. The latest technologies offer added value such as a reduced payback period.
Dries the printed product especially fast and gently. This produces a flawless result without the formation of bubbles.

They operate as continuous dryers using a combination of high-pressure hot air and medium wave infra-red radiation. Based on a modular design, the dryers can be supplied for every application in accordance with the customer requirements.
The essential element in circulating air dryers is not the heat, but rather the air. Although equipped with high circulating air volumes, the dryers still maintain excellent sheet stability. The sheets can therefore be dried at low temperatures which saves on energy consumption.
A UV dryer generally integrates two lamps, with each having 120 Watt/cm, in the hood of the cooling module. An infra-red filter and an efficient cooling system reduce the temperature on the substrate. This technology is especially suited for UV-cured coatings.
Components
Substrate arrangement
The substrates for many printing processes must be precisely fitted to the print. Depending on its type and application, the substrate can be aligned in various manners.

Two basic types of alignment are generally used — an optical alignment by means of a camera system or sensors and a mechanical alignment for the substrate edge or by the usage of pilot pins when register holes are punched.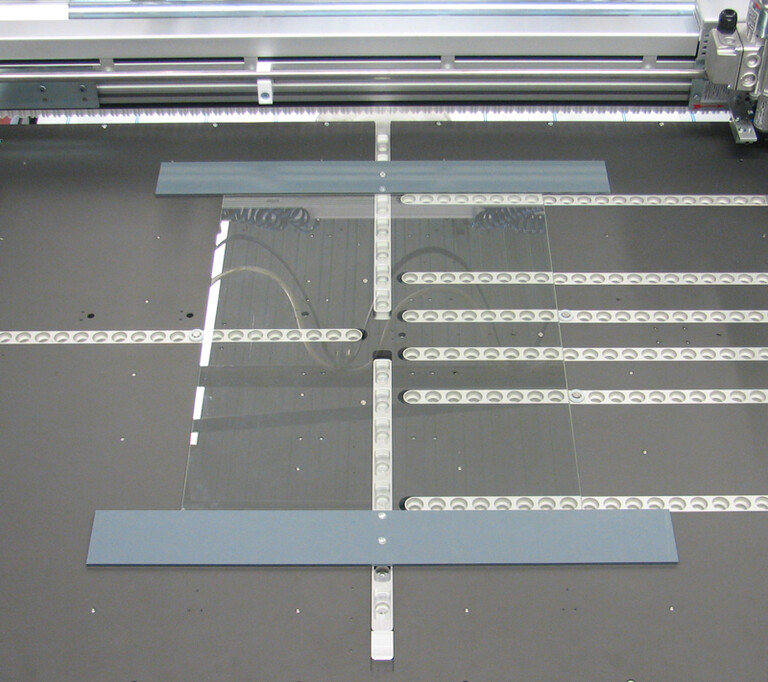 Placement pins and pilot pins for substrate alignment can be supplied in various designs. The position of the pins can also be individually specified.
Substrates can also be aligned with their centre point to provide uniform information on their dimensional tolerances. Centre position is used very frequently for rigid materials and is generally a mechanical alignment using centring rollers and sliders.
Two CCD cameras are often used to position multiply printed substrates with high printing precision. They can be aligned in this manner with up to +/- 10 µm precision depending on the application. Index markers are used for precise alignment. They are applied with the first print or taken over by an upstream process such as laser marking.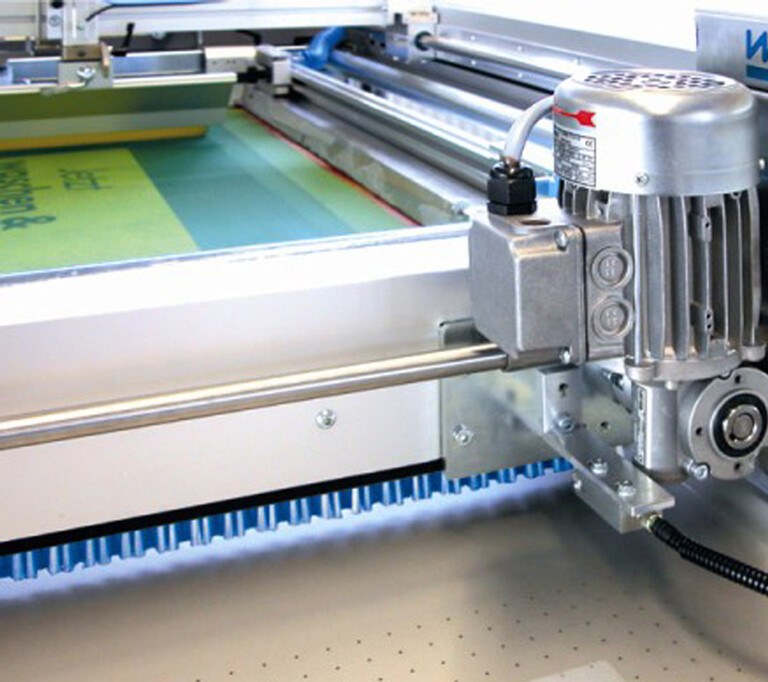 Components
Cleaning and ionizing
Reliable and gentle removal of dust and other particles from surfaces is an important condition for the production of high-quality printed materials when screen printing or digital printing is used for printing or coating. Surface cleaning thus represents an important step in the printing process.
Benefits:
Cleaning of surfaces contaminated by dust and particles
The particular advantage is the consistently high cleaning quality, even in cases of high particle contamination, without sacrificing the quality of the printed material being cleaned
Removal of static charges from surfaces - Process reliability at a consistently high level
High machine availability
Low operating and follow-up costs - Also possible for large printing widths of up to 3300 mm
Mounting on the print table:
Combination of air and brush technology Cleaning systems for the graphical and industrial surface cleaning of flat surfaces in the form of plates, foils, paper and cardboard.
An additional option is the cleaning with highly efficient elastomer and adhesive rollers. This results in a considerable reduction in production rejects, which could be caused by dust and particles on flat plates or plastic foils.
Malfunctions and production stoppages due to static charges are prevented by targeted discharging and thus increase the efficiency and productivity of the printing processes. The targeted elimination of static charge ensures a flawless material flow of the printed materials whereby trouble-free sheet transport can be guaranteed within the print line. This not only improves the printing process, but is also an optimal condition for further processing.
Benefits:
Cost-reducing performance increase
Reduced downtimes and stoppage times
Higher production speeds are possible
Better printing quality
Reduced coating time
Optimal usage of the Thieme printing machine
Reduced consumption of inks, printing materials and cleansers
Additional recommendation - Production of high quality prints in the clean room or controlled area. A clean room is a room where the concentration of airborne particles is kept as low as possible. Properly setting up the clean room or controlled area immensely reduces the dust and particle loading.
Components
Control
There is currently a strong trend in screen printing and digital printing towards automation and industrialisation. New standards are being set in the area of product quality control.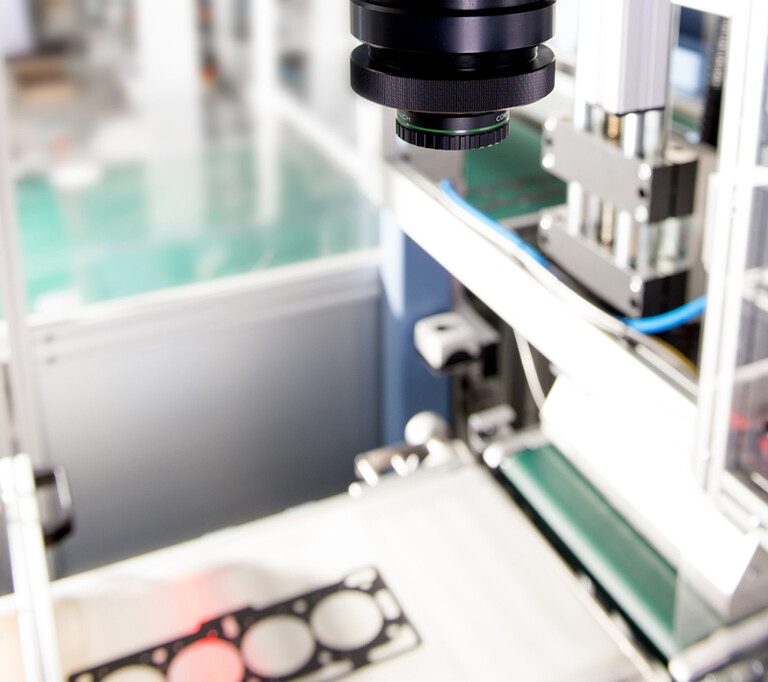 Print-Inspection-Systems no longer require manual monitoring activities but rather perform a reliable and integrated quality check.
Inspection concepts tailored to each customer - Error classification is possible
Documentation of the quality check and archiving
Integration of inspection systems for production monitoring
Multivariate Process control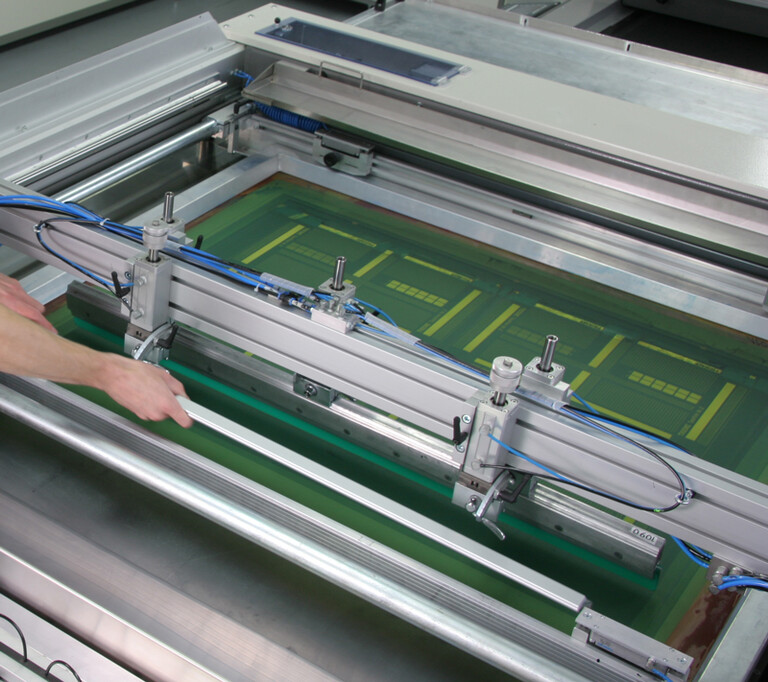 Components
Set-up and alignment
Thieme offers innovative options for time savings, the implementation of high-precision printing, and job results which can be reproduced at all times.
Thieme screen printing machines reflect its many years of experience in the graphic and industrial sectors Quick set-up, user-friendly design, program control with intelligent software, pneumatically operated functions. This all reduces the time consumed from print to print and print-run to print-run and enables the customer to print more efficiently.
The Thieme alignment system for the shortest set-up times.
Exactly aligned copies due to precisely punched mounting foils – colour for colour
Screen change in just a few minutes due to automatic screen positioning using 2 CCD cameras
Substrate alignment in just seconds using the automatic camera system. Highly precise automated alignment of the substrate using CCD cameras, evaluation software and monitors, including 3-axis servo motor positioning of the air-bearing print table
Quick printing squeegee and flood squeegee replacement
Pneumatically operating Thieme squeegee unit with self-alignment and sensitive printing control
Quickly adjustable screen insert system with pneumatic clamping of the screen frames
Programmable logic controller (PLC) considerably reduces the set-up times
Reproducible job results and high operating reliability
Visual system checks on the mounting pins for high-precision printing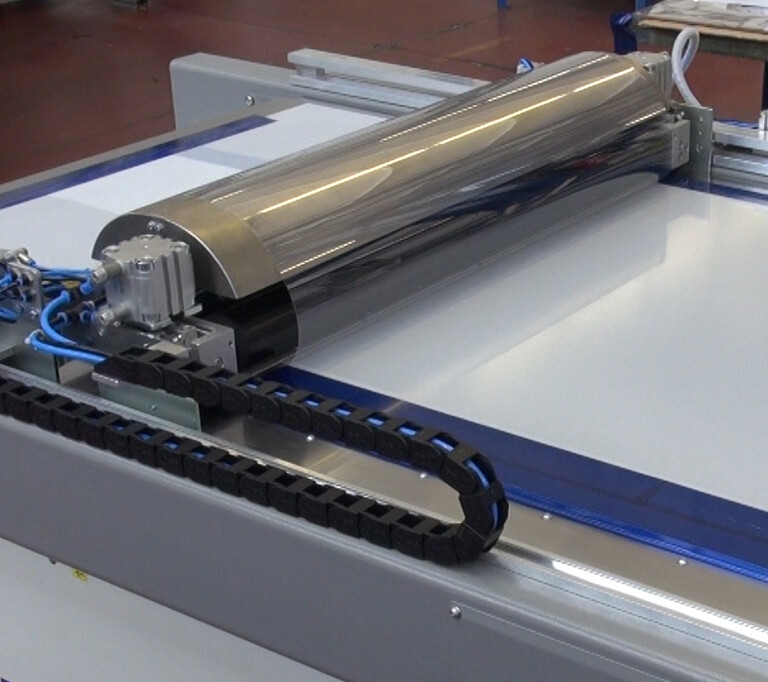 e.g. Flexible sensors and electrical circuits